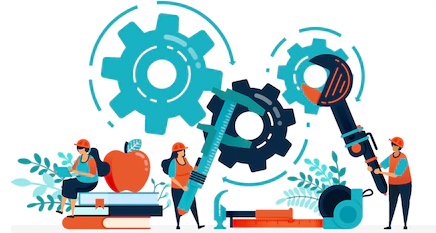 4 November 2021 – The pre-defined project Blended learning in vocational education and training (acronym: BlendVET), which is supported by the EEA Grants under the programme Education, Scholarships, Apprenticeship and Youth Entrepreneurship, kicked off this November. The project is worth a total of EUR 1,607,844 and is implemented by the Institute of the Republic of Slovenia for Vocational Education and Training as Project Promoter and 10 other project partners. The project will last 30 months and will be completed by 30 April 2024.
The pre-defined project was proposed by the Ministry of Education, Science and Sport, previously confirmed by the Donor States in September and included in Annex II of the Programme Agreement for the financing of the Programme Education, Scholarships, Apprenticeship and Youth Entrepreneurship. The pre-defined project was positively appraised by the Programme Operator in October and was kicked off on 1 November 2021. Six Slovenian, three Norwegian and two Icelandic institutions cooperate in the pre-defined project, all from the field of education.
The main objective of the project is to establish conditions at the project partner schools that foster the use of digital technologies for teaching and learning in the vocational education and training (VET) system. Specific objectives of the pre-defined project are to develop and implement school strategies for an effective implementation of blended learning, provide support to VET teachers in planning and implementing blended learning and develop VET teachers' digital competences to create and use e-learning solutions.
In addition, the pre-defined project fosters cooperation between the Donor States and Slovenia, empowering students by including them in the development of digital learning materials, and creates online communities of headmasters, VET teachers and ICT professionals for joint development, mutual learning and exchange of experiences.