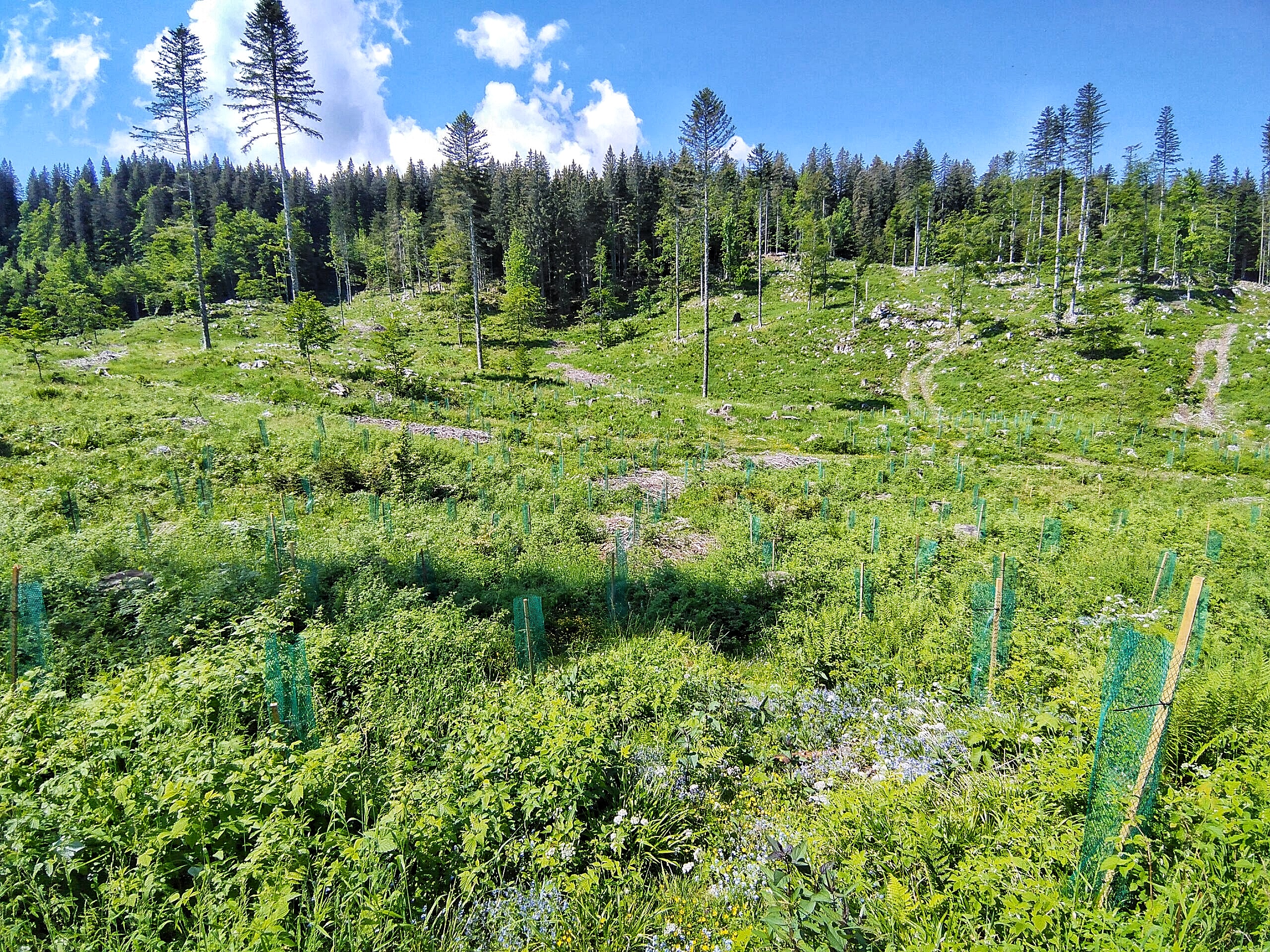 28 August 2023 – In the past year, the Slovenia Forest Service carried out an extensive tree planting work on 10 hectares of woodland on Jelovica by planting tree species that resemble traditional species like beech and fir and are more resilient to extreme weather events and climate change as part of the JeloviZa project. Continue reading to learn more about how the seedlings that they planted grow compared to the seedlings that sprang up from seeds produced by nearby trees and about what we can do to best protect young trees to ensure their growth is as successful as possible.  
The Jelovica plateau was originally covered with vast beech and fir forests. Over time, the share of spruce in the forests rose as a result of different human activities. While spruce tends to grow faster, it is known to be much more sensitive to climate change. Above all, the need to avoid the monotony of the forest has become more pronounced amid increasingly frequent disaster events and outbreaks of bark beetles.
By conserving the diversity of tree species, we help recover the traditional species composition and allow for greater adaptability to climate change. For the most part, forests tend to regenerate and regrow in a natural way. However, if this regeneration takes too long due to disturbance events, such as wildfires, storms, windthrows and subsequent bark beetle outbreaks, people can step in by planting suitable tree species. Experience shows that deer prefer to feed on seedlings that are planted by people to young trees that grow naturally from seeds. That is why forest stands are preferably restored by natural means, i.e. through regrowth or natural regeneration. If the latter is not successful and would take too long, we opt for artificial forest regeneration by planting seedlings.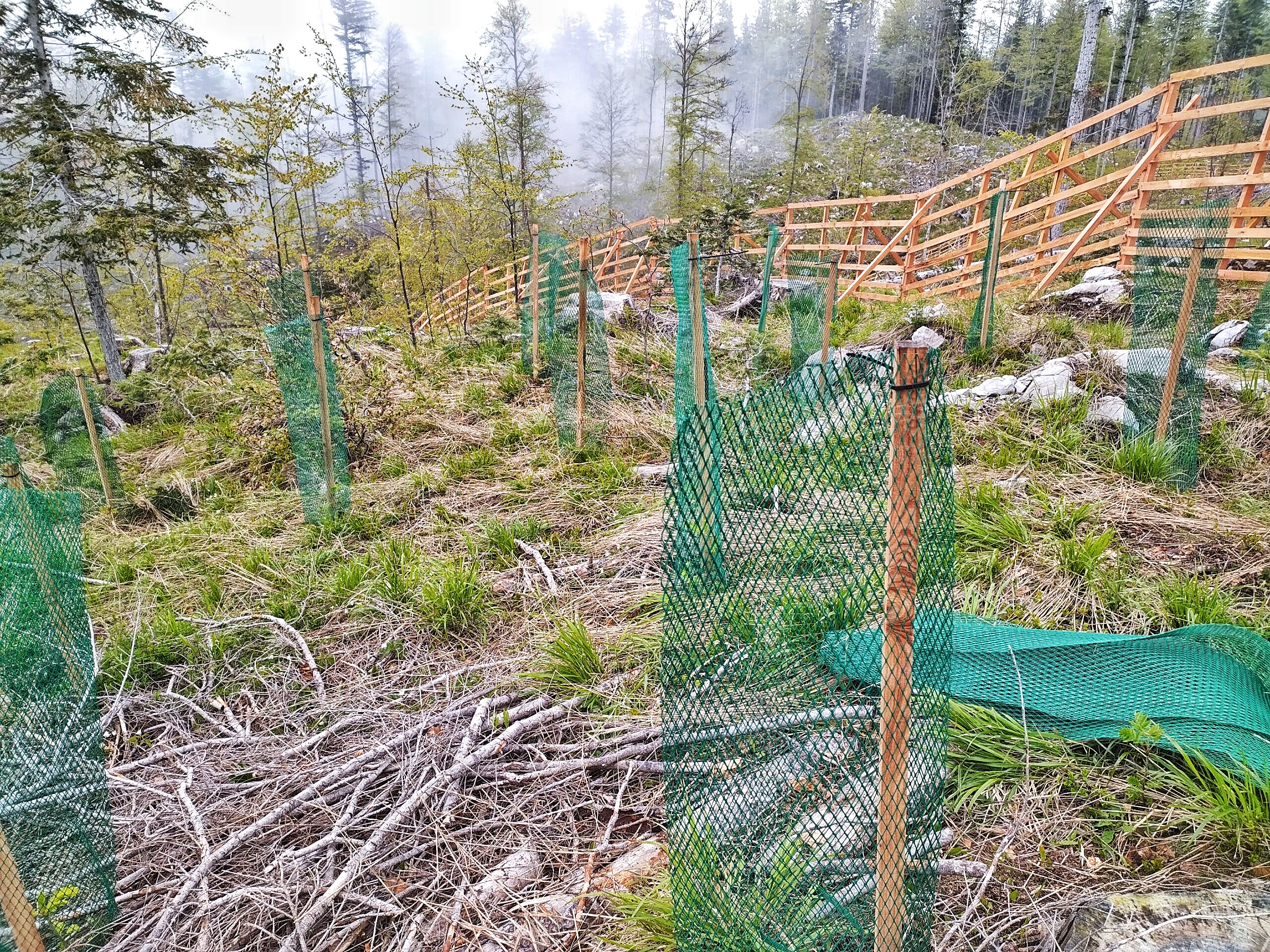 Comparison of the outcomes of natural and artificial restoration of 20 hectares of woodland on Jelovica
The project of reforestation of 20 hectares of woodland is focused on comparing the outcomes of artificial and natural regeneration. As part of the JeloviZa project, tree seedlings were planted on 10 hectares of woodland. On additional 10 hectares of woodland the young trees that grew up from seedlings were protected from deer. The comparison will provide insights into how effectively the Jelovica forests are able to restore themselves naturally and how we can use tree planting to help the forests recover faster.
Three types of tree protection methods were used to protect the seedlings from browsing or fraying by deer. Parts of the seedlings were intentionally left unprotected as controls to allow for assessment of the effectiveness of each method.
Four bigger wooden fences were installed on Jelovica in order to protect larger groups of trees from all kinds of damage caused by deer. Fencing is used as a deer damage management technique whenever seedlings need to be protected on a surface area that is larger than half a hectare. When selecting the relevant sites, we avoid wildlife migration routes or areas that are important for wildlife conservation.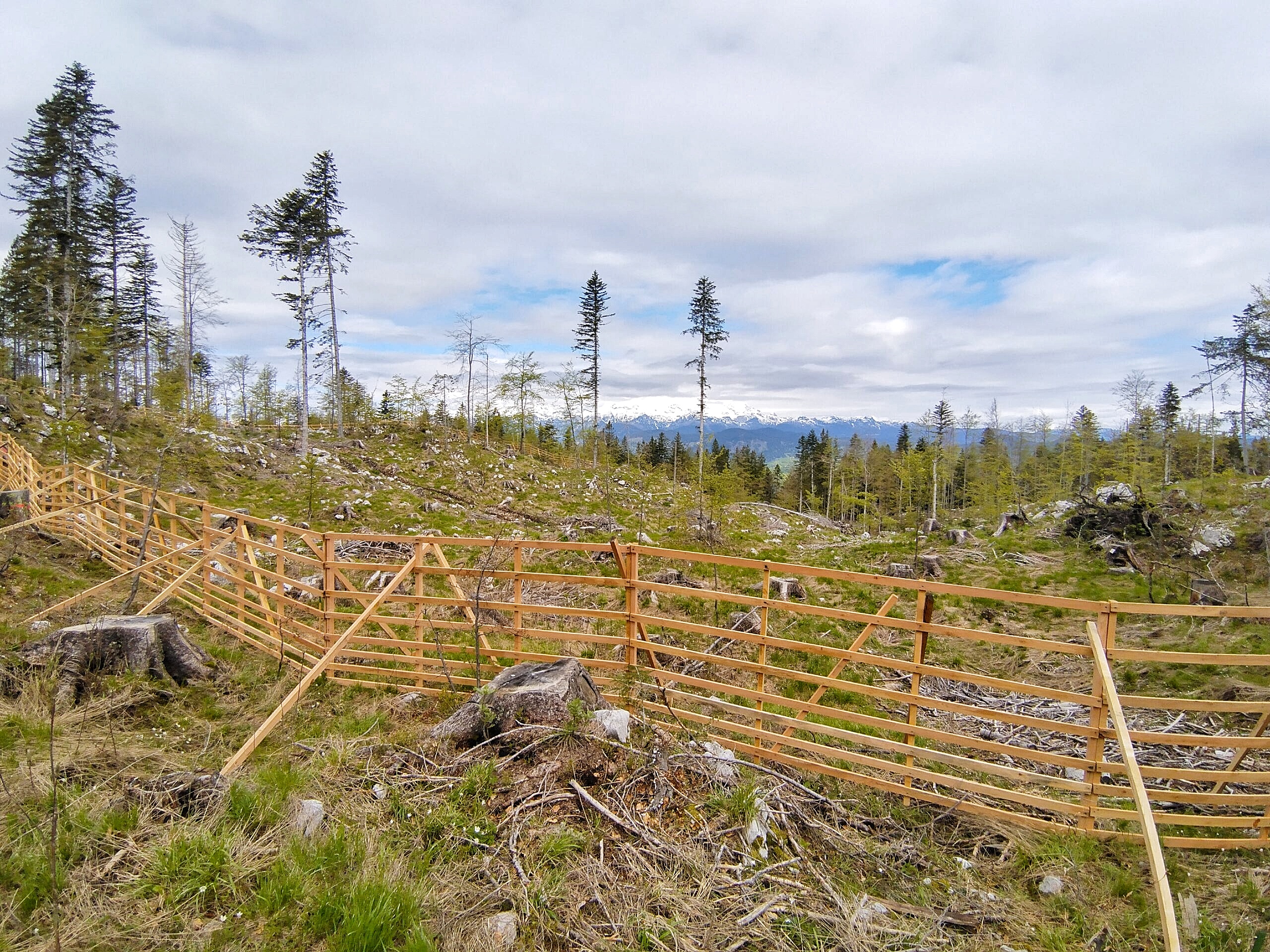 Biodegradable tree protector tubes made of coarse mesh were used to protect terminal buds and tree trunks from browsing, fraying and bark stripping by deer. The tubes are fitted around the tree trunks so that deer cannot reach the bark. The tubes are suitable for protection until the tree trunk gets too thick. This type of tree protection requires regular removal of weeds as the tubing does not prevent the growth of competitive vegetation.
Ready-to-use coating agents (Kemakol, Trico, …) were applied to terminal buds of the tree to prevent winter and early spring browsing. This method requires regular yearly renewal until most of the terminal buds are outside the reach of deer. The repellents are not applied during the stage of active growth of deciduous and coniferous trees as this would hamper their growth and development.
Monitoring of seedlings in autumn
Monitoring of seedlings that will take place in autumn has already kicked off on Jelovica. The findings of the monitoring exercise will suggest which types of protection work best and which are more efficient than others.
By comparing both restoration techniques the project aims to provide important data that will help experts determine how efficiently Jelovica forests are able to regenerate naturally and how people can help speed up forest restoration through planting of specific tree species.
The JeloviZa project, which is supported by the EEA Grants, brings together several partners – CIPRA Slovenia – Association for the Protection of the Alps, Institute of the Republic of Slovenia for Nature Conservation, Slovenia Forest Service, Municipality of Železniki, Sora Development Agency and CIPRA International.
This news item summarises the articles written by Ana Mežan, Slovenia Forest Service and Anita P. Oman, Sora Development Agency