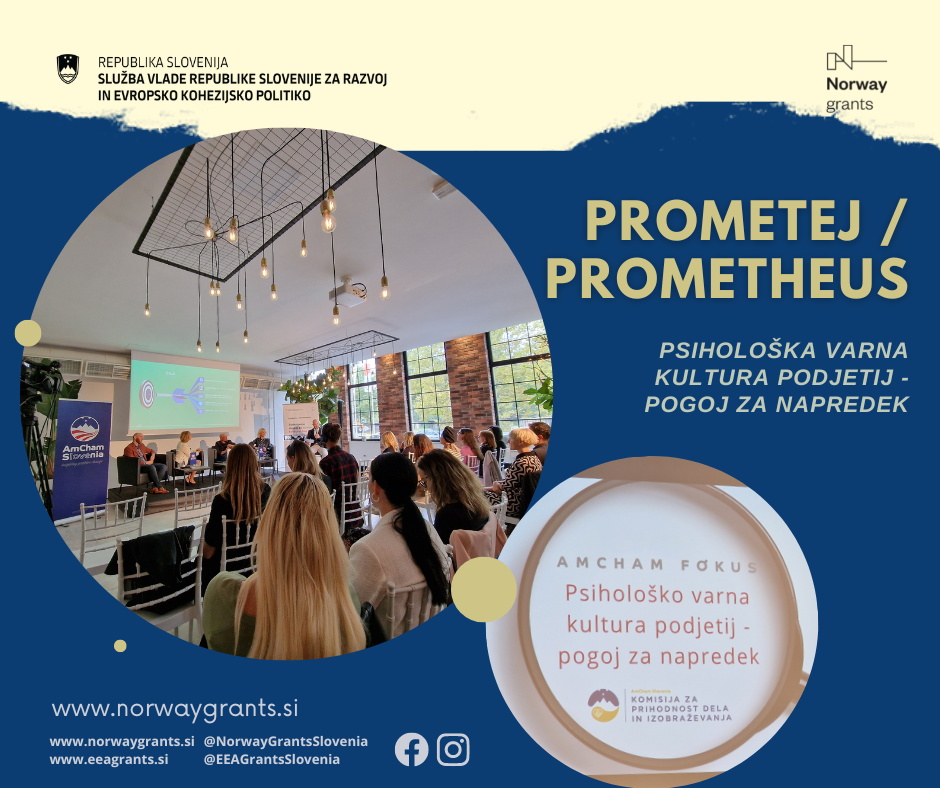 21 September 2022 – At the AmCham Fokus event entitled Psychological safety – a condition for progress, the participants highlighted the importance of psychological safety at the micro, meso and macro levels and defined it as a condition for the progress of society. They agreed that investing in the community, building trust, and leading by example is critical to building psychological safety.
As part of the event, the PROMETHEUS project was presented (full project title: Transfer and implementation of good practices for improving work-life balance, through training and education of employees and managers, with the aim of establishing an organizational structure and culture of companies, based on gender equality), which is co-financed by the Norway Grants 2014–2021 under the programme Education, Scholarships, Apprenticeship and Youth Entrepreneurship. The project lasts from July 2022 to the end of April 2024.
The main goal of the project is to empower working women and men with proven measures to facilitate the reconciliation of professional and private life when performing work at home and work on location, adapted for different levels of jobs in individual organizations included in the consortium. The indirect goal of the project is the implementation of an individual, tailor-made educational approach based on positive psychology, which makes a key contribution to building a respectful organizational culture based on gender equality and diversity.
The project promoter is the American Chamber of Commerce (AmCham Slovenia). The project partnership also consists of Slovenian project partners Gender equality research institute, Maribor; Lidl Slovenia Ltd; Riko, industrial, construction engineering and leasing, Ltd; University of Maribor; Knauf Insulation, Ltd Škofja Loka; Public Scholarship, Development, Disability and Maintenance Fund of the Republic of Slovenia; A1 Slovenia, telecommunications services, Joint Stock Company and the Norwegian project partner The Norwegian Automobile Foundation.